Goodbye summer, you will be dearly missed. But nothing beats the pumpkin spice, vibrant colors, and cool temperatures of fall. Transitions can be tough and the transition from a fast-paced, fun-filled summer to a slower fall season is no different. Rather than resisting the change in season, help your team embrace the change. Break up the monotony of the work week with fall-themed team building activities that will effectively bring your team together while also giving them something to look forward to. Below, we have outlined 5 fall team building activities to try in 2023:
5 Fall Team Building Activities To Try This Season:
1. Fall Bake Off
Ask your employees to bake their tastiest fall recipe and bring them to the office. Give everyone a score card and let the tasting begin. Your staff will love the sweet treats and the playful trash-talk that is sure to accompany a friendly competition! From pies to a Salsa Showdown the delicious cook-off options are endless.
One of our favorite fall team building activities is our Team Chili Cook-off. This fiery favorite combines creativity, resourcefulness, and skill. Each group starts with chili basics like meat and tomatoes. But collecting other ingredients means bartering while completing fun challenges.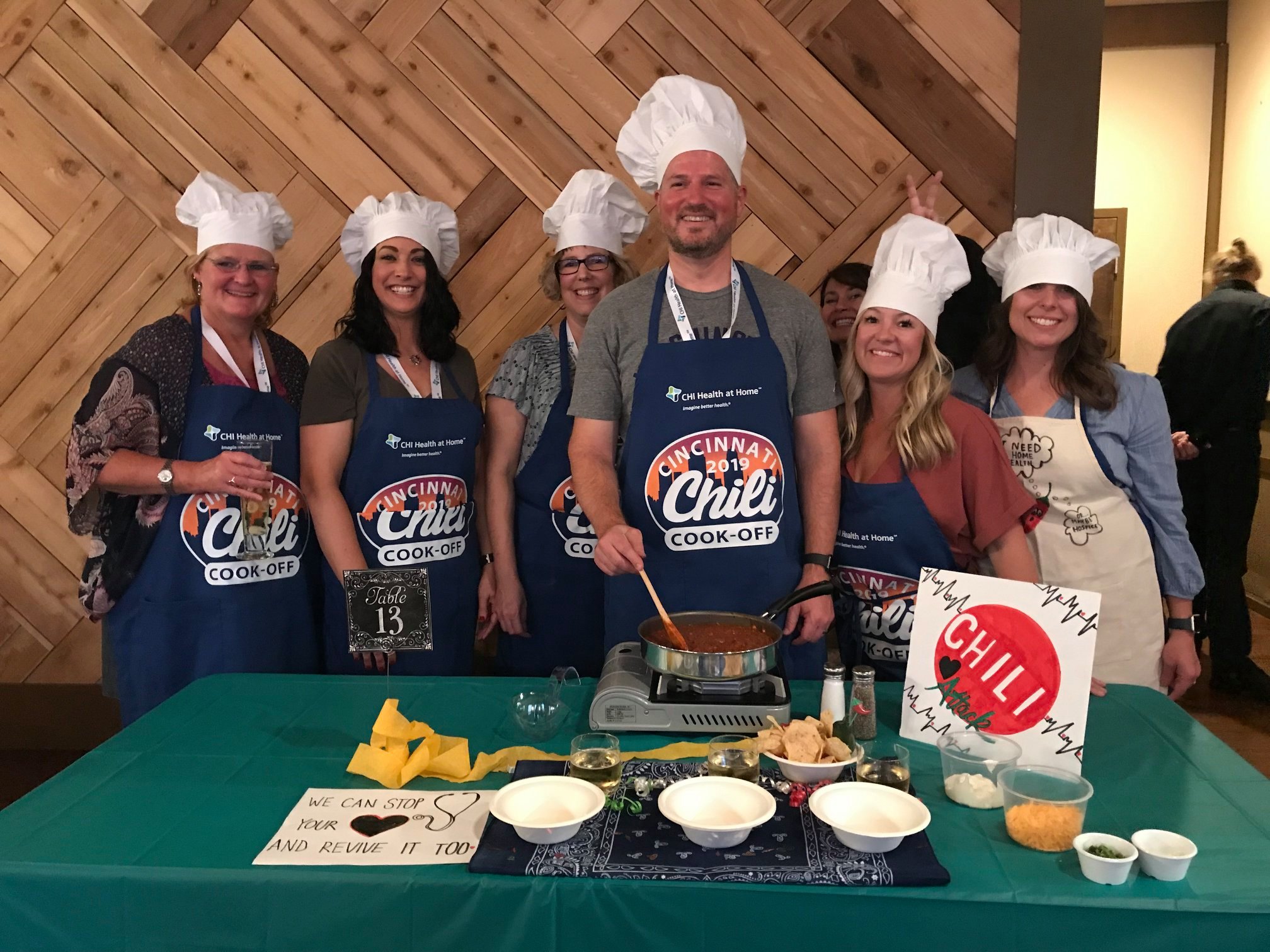 2. Give Back
Fall is the perfect time to give back. In fact, many nonprofits are in need leading up to the holiday season and colder weather. So what better way to kick off the new season than by helping those in need? The opportunities to give back are endless. Here are some of our favorite fall office activities to spread kindness and compassion:
3. Pumpkin Carving
Pumpkin carving is a quintessential fall team building activity that your employees are bound to enjoy. Break your employees into teams and ask them to collaborate on their pumpkin's design and execution. They'll turn ordinary pumpkins into magnificent works of art! After the carving, your employees can use their pumpkins to decorate the office and serve as a reminder of all the fun they had. This is also a great option if you are looking to do a virtual event. Participants can invite their families to help and get some of the pumpkin carving done early.
4. Costume Contest
Ask your office to dress in their Halloween best for a competition that won't disappoint. The participants can introduce themselves and show off their costumes while the rest of your employees vote. Extra points for ingenuity! A costume contest can be added on to any of our fall team building activities. Or check out our Halloween-themed Corporate Project Runway.
5. Tastings
You can't go wrong with a taste of the aromatic flavors of fall. Team building is anything that brings your team together, right? Here are some of our favorite tastings:
6. Pumpkin Racing
Does your office have a need for speed and a love for fall activities? If you answered "yes" to both, we've got the perfect team building activity for you! Turn a pumpkin into the ultimate race car. Don't forget to decorate your pumpkins so you can spot them as they speed towards the finish line.
7. Murder Mystery & Escape Rooms
Host a murder mystery lunch or dinner for your office and leave it up to your staff to identify the killer. Need help planning? You're in luck – we've been planning murder mysteries for over 30 years. Get in touch to plan start planning an incredible mystery today. Or if your group is more of escape room crowd, we have that too!
8. Fall Scavenger Hunts
One of the best fall team building activities to do is a scavenger hunt. The weather is cool, the trees are bright, and the energy is unmatched. Stop a zombie apocalypse in Zombie Rising, race around your city in Monster Mad Dash, or give back to healthcare workers in Healthcare Heroes as they prepare for the difficult winter season. The choice of high-tech scavenger hunts is yours, and we can even help you customize your own.
9. Murder Mysteries
As the weather cools and the days grow shorter, the atmospheric setting of fall complements the suspenseful nature of murder mysteries. These thrilling and immersive shared experiences are prefect fall themed team building activities. They encourage communication, problem-solving, and critical thinking as participants work together to unravel clues, analyze evidence, and ultimately solve the mystery. Here are a few our our favorites:
---
Get Started Planning Fall Team Building Activities
The possibilities for fall team building are endless, so embrace the new season with your team. Be sure to check out all of our fall/halloween team building activities to make fall 2022 one to remember. Happy planning!