Team building store.
Don't have time or budget for a big team retreat? Take heart! This page features a collection of our favorite do-it-yourself event starters, activities and prizes. Each of these helpful products has already established itself as a proven winner.
Team building kits provide great DIY options. And employee gifts always come as a welcome surprise.
View Category
Large, elaborate events are great. But it's nice to have team building games on hand to use any time.
View Category
Whether you're welcoming a new team or warming a crowd up before a meeting, icebreakers really help.
View Category
Meetings can be much more productive when a team's engaged from the start. These fun tools make it easy.
View Category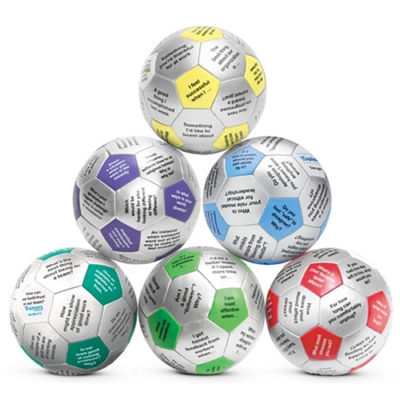 Ever played icebreaker games based around Thumballs? Stimulate fun and learning by playing catch! Look under your thumb to start the conversation.
View Category
Shop team building essentials from Trainers Warehouse, our favorite gurus of corporate training tools.
View Category
Return Policy
Digital download purchases are non-refundable. Unused physical products may be returned within seven days of receipt.
Refund Policy
We're happy to issue a refund for any return, provided all items are in their original condition. All shipping fees are non-refundable.
Delivery
We process all orders within 2 business days. If you need expedited processing, call 508-271-7581 to let us know. No guarantees, but we always do our best.
Sign up to receive ideas for budget-friendly team building.
Put yourself on the list to receive a free newsletter dedicated to those with big dreams but small budgets. We'll make sure you get the latest updates on our newest store products.