Get to Know Each Other as People, Not Just Professionals.
We're all so much more than our job titles. We have interests that may have drawn each of us to our roles and helped us excel within them. A common challenge at work is the lack of opportunity for employees to connect with their colleagues beyond just their job duties. This can lead to a limited sense of connection among the team. But there is a solution: get to know you team building activities. There are easy and fun team building icebreaker activities that can help you and your team bond and get to know each other as more than just co-workers.
The Benefits of Get to Know You Team Building Activities
When you get to know your team, it helps create a positive and productive environment where all members feel valued and supported. We all have stories that connect us. Team building games and icebreaker activities work to help your team stay bonded throughout the year, whether you are together in person or working remotely. Below we will highlight some of the most impactful get to know you team building activities and ways to continue to foster growth as a team beyond the basics. But first, here are three benefits of getting to know each other at work: 
Enhanced Communication
Get to know you team activities and icebreakers can help foster open and improved communication. Their purpose is to better help colleagues get to know each other on a deeper and more personal level. They may find they have a lot more in common than they once thought. Plus, it helps elevate any awkwardness that may exist.
Better Trust
When you get to know someone, you can understand what drives them and it can help break down barriers. Maybe there was a specific experience that made them who they are. A strange parallel would be comparing people to onions. There are many layers to peel back, but when we work to understand one another there is a layer of trust that can be uncovered. It is also important not to push your coworkers to share if they aren't comfortable.
Boosted Morale and Teamwork
Engaging in fun and interactive get to know you team building activities can help your team work better together. They help to create a more relaxed and motivated work environment where creativity and collaboration are encouraged. 
5 In-person Icebreakers to Get to Know Your Team
Getting to know each other doesn't have to break the bank. We asked our amazing TeamBonding facilitators their favorite get to know you team building activities and here's what they said: 
1) Icebreaker Thumballs
Icebreaker thumballs are an easy way to stimulate fun and learning by playing catch. Each section of the thumb ball has a different conversation starter, question, or topic. When you catch the ball, wherever your thumb lands is the question you will answer. TeamBonding offers all different types of thumb balls designed to open the lines of communication and generate creativity. Your possibilities to simulate conversation, fun, and learning are endless.
2) Gotcha!
In this game, participants must be focused and engaged. First, gather everyone into a circle and have them overlap hands. As the facilitator or leader tells a story, all the participants will listen for a secret word. When the word is heard, participants must act fast and try to grab their neighbor's finger with their left hand, all while keeping their right hand away from their neighbor on the right. One of our lead facilitators Rich says, "This is my favorite activity to get everyone laughing and up on their feet."
Expert facilitator Paul mentions if you want to take it a step further after the game, have them stay in the circle. One person to the center of the circle must share something about themself. Anyone who agrees with/has done/can do must run to the opposite side of the circle as quickly (and safely) as possible. Last person through the middle stays!
3) Categories
This icebreaker game named "categories" is an all-time favorite of facilitators CJ and Jenelle. Categories is a high-energy game that forces participants to communicate under the pressure of time to physically group into common categories. The catch? No talking! This game is a way to learn things about each other without it feeling like an icebreaker. It's also a great gateway for people who are shyer and want to participate but want to warm up first. Some of their favorite categories to use are:
The type of toothpaste you use
Birth month
Favorite color
Favorite high school subject
How many bikes you've owned in your life
Number of siblings you have (Without fail someone will have a large family and everyone will go nuts!)
4) Would You Rather
Would you rather is a very simple get to know your team activity that is easy to set up and execute. Simply come up with a list of would you rather questions, and you're on your way! Our facilitator Monica often divides the room and gives them alternatives that correspond to the sides to spice it up. And if you want to get crazy, play it as 4 corners!
5) Rock Paper Scissors
A childhood favorite, but adults love it too. And it really is a great way to get to know your team. Everyone gets to play against someone and the winner moves on in the game with the "loser" as their personal cheerleader. This continues as duos play duos and then groups play groups with winners moving on, gaining more cheerleaders. The finale has half the room cheering for one player and half the room cheering for another. Rock paper scissors is a simple way to create a room full of energy with such a simple game!
You could also give your mass rock paper scissors game a twist. The lead announces criteria like being; born in the same month – and everyone finds a partner. After that, they pair up with anyone. Then they answer a question such as: "What is your favorite food?". Finally, they play the game and the winners find a winner to play round 2 against and the defeated become supporters and find a supporter from the challenged group to pair up with. Rinse & repeat. You could everyone a tag with a lanyard on and when you beat someone you take their tag – easy to see who are supporters and players. 8 rounds should do it!
Paul notes more important than what icebreaker you choose is how it is presented and how quickly it builds rapport with the participants. He even has begun calling icebreakers energizers because people think icebreakers and immediately assume it's a yawn. When really it's all about energizing and connecting everyone in the room.
5 Virtual Icebreaker Games
If you're looking to get to know your team virtually, don't fret! There are plenty of fun virtual icebreaker games that are designed to break the ice, and barriers of your team.
1) The Unknown Fact Game or Team Trivia
This get to know your team game is simple. Assign a coordinator and have everyone on your team submit one "unknown fact" to that person. The coordinator is responsible for auditing facts based on pre-set criteria. For example, you may ask team members to submit facts specifically about their hometowns. They then must create a randomized list of facts and a separate randomized list of participant names. Everyone has a set amount of time (e.g. complete by the end of the day) to match as many facts to participants as accurately as possible. If you have a small team, you can also have each person explain the reasoning behind each match they guessed while reading individual answers aloud.
2) Quickfire Olympics
Energize your team with the Quickfire Olympics virtual icebreaker game. This Olympic-themed game tests your team with mental, physical, and creative challenges in order to win the gold medal. It's the perfect way to boost your team's energy at meetings, increase engagement and encourage communication.
3) Virtual Wellness Challenges
Break the ice with your remote team by participating in one of our Virtual Wellness Challenges. This week-long competition encourages your team to support and cheer each other on as they participate in challenges to rack up the most points. This virtual icebreaker game is customizable and can be modified to include company-specific challenges and trivia.
4) Virtual Team Happy Hour
There is no better way to get to know each other than with a virtual team happy hour! Each team member will receive a cocktail kit in the mail, learn how to craft their cocktail, and then enjoy it as a team. Our virtual happy hour can be a one-off event, a series of events, or paired with another virtual icebreaker game.
5) Tea for Teams
Designed to enhance team connections and relaxation, Tea is for Teams will explore the world of tea while savoring 3-6 exquisite tea varieties from across the globe, along with a tea brewing mug, cookies, and notecards, all delivered to their doorstep.
Continue to Get to Know Your Team
Icebreakers and energizers are considered the #1 onboarding activity as well as the best way to get to know your team. But the most important thing is not to stop at getting to know each other. These activities are great to break the ice, but you should consider a more in-depth get to know you activitiy. Here are some TeamBonding favorites we have seen work for teams time and time again.
1) The Mystery Bus
Take your team on an adventure to get to know each other. Not knowing where you're going is half the fun. Traveling on the Mystery Bus, your group will visit 3-4 locations selected to fit your interests, timeframe, and budget. Every city has its mysterious destinations – here's a chance to experience the thrill of discovering them together, as a team.
2) Survey Says
This is an all-time favorite get to know you team building activity based on Family Feud. Available virtually or in person, Survey Says is a fun way to see how well you and your co-workers know each other, your company, and its culture. We can supply all survey questions, or customize them around the topics you provide.
3) Synergyk
Want to help different generations connect? Give your team a nostalgic 80s feel with 8-bit music and unique minigame-style challenges. Synergyk is a one-of-a-kind collaborative team building experience where players cannot play alone and must rely on their team to move forward. That being said, Synergyk also provides teams with helpful feedback regarding their strengths and weaknesses in both problem-solving and teamwork.
4) Squad Game
Put your squad to the test with our brand-new get to know your team experience inspired by the hit Netflix show. In Squad Game, your team will go through a series of 5 immersive challenges that will get you thinking outside the box. The winning team will be the one that can best leverage each teammate's individual strengths.
5) Amazing Race
This high-tech scavenger hunt turns any area into an amazing race full of interaction and adventure! The Amazing Race Scavenger Hunt is built specifically for your team, which means trails can be set up in any destination and on any terrain. Our team will work with you to design a trail with challenges that match your desired learning and team building outcomes. How's that for amazing?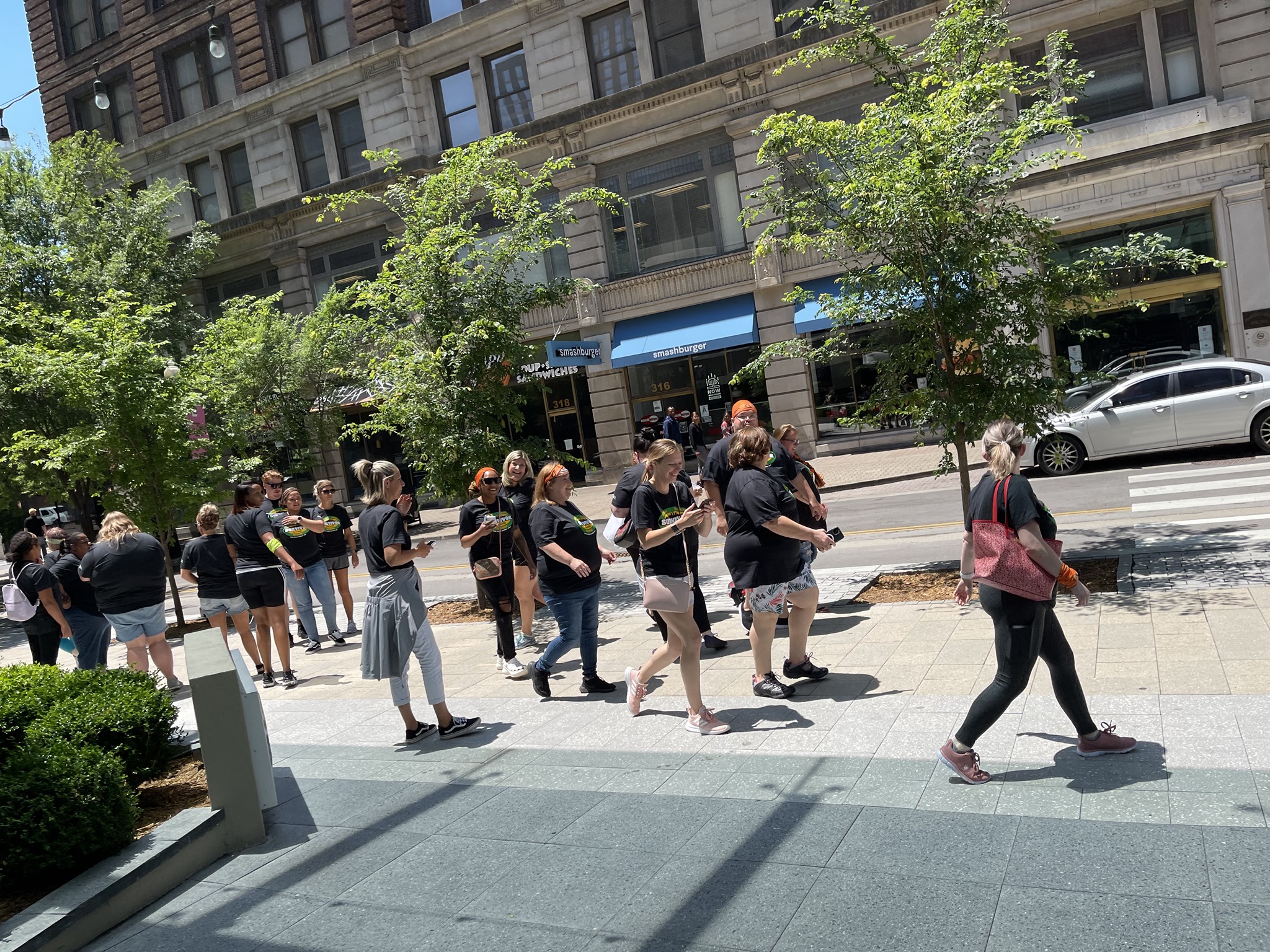 It's always a good time to build meaningful connections
It's never too late to start building relationships. Whether you are onboarding new employees, balancing a hybrid team, or just wanting to build stronger relationships between team members, we want to help. Build community and improve team dynamics with any one of our team building activities or do it yourself with our office icebreakers. Take the time to invest in your team, and see the benefits of collaboration, morale, productivity, and most importantly friendship blossom.