Most of the time, work is serious. However, that doesn't mean you shouldn't have some fun every once in a while. Though it may seem like a waste of time, having fun at work can provide numerous benefits to you and your team. It can promote relationship building, team building, improve productivity, increase creativity, and boost team spirit. 
That said, finding fun activities for employees can be a challenge. Which activities will work for your team, and which one(s) should you choose? What about employees that work virtually and aren't in office? Rest assured, because we're going to provide a list of fun activities for employees at work that you can use to let loose with your team. Whether your team loves spending time outside or works remotely, we have an activity that will work great for your team. 
Fun Activities for Employees
There are countless fun activities for employees, and browsing them all can be a bit overwhelming. To make things a bit more approachable, let's break them down into different categories. 
In Office Activities
First up are in office activities. These activities are great if you have a team in the office that you want to help have some fun. However, these activities aren't typically a great option if you have remote teams. But don't worry; we'll get to fun remote activities for employees later.
1. Team Trivia
Team trivia is a classic choice, and it is one of the most popular ways to have fun at work. Trivia is a great way to flex your brain, get competitive, and have some fun while building relationships with your co-workers. There's a reason trivia is such an everlasting activity all over the world. 
At TeamBonding, we have multiple different trivia events to choose from. Corporate Quiz Bowl is one of our most popular events, can be uniquely customzied and and it consistently gets great feedback from participants. If you want something more seasonal, we offer Trick or Trivia and Oh What Fun! — Holiday Trivia.
2. Game Shows
Game shows are another great way to have some fun at work with your teams. Watching game shows is fun, but being in them is even more fun. So why not bring that fun to your team with your own game show? From Jeopardy and Wheel of Fortune to Family Feud, there are tons of options for game shows to choose from. 
For example, we have Jeopardy Team Building, a fun take on the iconic game show that will let you and your team have fun while building relationships. Spin to Win is our very own Wheel of Fortune style game show. There are plenty of options when it comes to game shows for your team to play.   
3. Laughter Yoga
Laughter yoga might sound odd, but it is one of the best ways to have some fun with your team. Laughter yoga mixes fitness, wellness, team bonding, and laughter to create a fun and energizing event for your team. By taking some time to laugh together, you can let loose, have fun, stimulate your creativity, and get in some light cardio too. 
---
Outdoor Activities
It's always nice to get outside and enjoy the weather while you can. If you and your team want to have some fun while enjoying the sun, these outdoor activities are just what you need. 
1. Office Olympics
Office Olympics are another classic activity that is perfect for having some fun. You can do Office Olympics indoors too, but it's more fun when you're out in the sun. This activity is another great way to get competitive, build relationships, and have a great time with your team. 
When putting together an Office Olympics, your possibilities are endless. There are so many different events and prizes you can choose from, so don't be afraid to get a little creative. Also, look online for some Office Olympics tips if you're struggling. There are lots of great ideas online you can use to take your event up a notch. Or, we have our very own olympic style game, Outrageous Games.
2. BBQ Parties or Cooking Competitions
Food is the great equalizer, so why not have some fun centered around food? BBQ parties, pizza parties, and more are a great way to take a break from the stress of work and have fun. Just make sure you have plenty of food for your whole team!
There are also lots of great food focused events, like cooking competitions such as our Ice Cream Challenge. With the Ice Cream Challenge, you and your team will compete to create your own original ice cream flavors. And if ice cream isn't your thing, there are plenty of other options like the Wicked Good Chowda Cook-Off.
3. Scavenger Hunts
If your team likes to stay busy even when they're having fun, scavenger hunts are a great option. Scavenger hunts give you and your team the chance to compete in a fun event while exploring an area. 
The Amazing Race Scavenger Hunt has you and your teams compete in a scavenger hunt based off the hit show. This event can be set-up for any environment, from downtown to hiking trails. The Team-Opoly Scavenger Hunt merges a classic scavenger hunt with America's iconic board game, Monopoly. 
---
Charitable Activities
Giving is good for you, so why not have some fun while giving back to the community? Charity events are a great choice for fun activities for employees. Here are a few ideas for charity events you can use to give back and have fun.
1. Community Service
It may not sound fun, but you'd be surprised at how much fun you can have when doing charity work with your team. Being together and doing work that benefits the community can be just as much fun as a game show or Office Olympics. 
On top of that, you can have fun while also making a noticeable difference in your community. So consider doing some community service with your team. Find a way you can help, whether that's picking up trash or planting trees, and spend some time bonding with your team. We have a variety of charitable team building events that teams rave about.
2. Fundraising Challenge
Fundraising is also a great way to give back while having fun. Organizing or participating in a fundraising event can be challenging, but it's also very rewarding. A fundraising challenge is also a great chance for your team to be competitive while taking their mind off the stresses of work. 
3. Local Clean Up
Can picking up trash really be fun? Surprisingly, yes. Popular Youtube channel
Corridor Crew
recently showed how much fun you can have doing something as un-fun as picking up trash with your coworkers in
their recent video
.
Besides being an opportunity to converse and joke around with your co-workers, you can also make a clear difference in your community. Seeing a park, roadway, or street previously covered in trash become clean is incredibly satisfying, and it can be beneficial for your mental health too.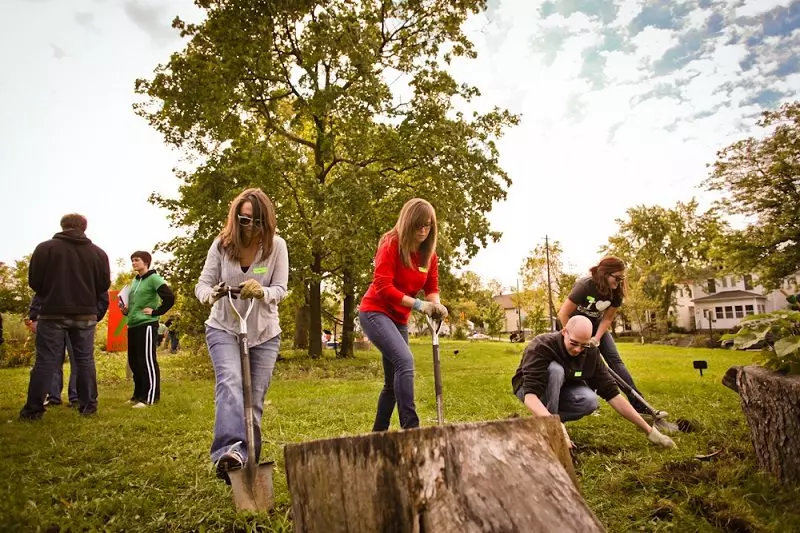 ---
Virtual Activities
Have virtual teams or team members? Don't worry—there are plenty of fun and exciting virtual activities you can use to have fun, no matter where you and your team members are. 
1. Virtual Team Building Games
There are countless virtual team building games and activities you can choose from. Whether you want something fun and competitive like Virtual Casino Night or something a little more interactive like Mission to Mars, there are plenty of options available. 
2. Virtual Happy Hour/Mixology Classes
Who doesn't enjoy a nice drink in the comfort of your home? Well that's exactly what Virtual Happy Hour and Mixology Classes can offer you and your team! Take some time to relax, unwind, and enjoy a custom self-made cocktail while conversing with your team. 
This event can be a great opportunity to get to know your team better while de-stressing from work. It's also a good opportunity to get creative while coming up with your own unique, signature cocktail.
3. Remote Book Club
If your team loves to read, why not try a remote book club? A book club is a perfect opportunity to bond with your team, share ideas, get to know each other better, and have fun discussing a great book. You can spice it up too by adding rewards or prizes, like a gift-card raffle for everyone who participates. 
---
Small Fun Activities for Employees
It's easy for fun activities to end up costing a lot of money, but you don't need to break the bank to have fun. DIY activities can be just as fun as those that cost thousands, so here are some small fun activities for employees that you can do yourself without a facilitator. 
1. Two Truths and a Lie
Two truths and a lie is a classic icebreaker activity, and for good reason; it's a simple and effective way to have fun while getting to know your team better. This game always results in a few laughs and some newfound knowledge about your coworkers, so give it a try.
2. Egg Drop
Lots of students do an egg drop in a high school, but it can be just as fun as an adult. Working together in teams to save an egg from cracking while falling is a great chance to get creative and better your team working skills.
3. Charades
Charades never fails to entertain. It may be a simple game, but it's always a fun time. Playing charades with your team can be a perfect way to have fun, laugh, and take a break from work. Consider adding a prize if you want to make things more competitive.
---
Have Fun and Build Your Team
Having fun is an essential part of a healthy workplace. You and your employees need a break every now and again to relax, de-stress, and have some fun. It's also a great chance to build relationships, better your teamwork, communication, and more, resulting in a more effective team. 
If you want to have some fun with your team, look no further than TeamBonding. We have a huge selection of events that are perfect for your next event. So contact us today and give your team a chance to have fun.