Turnover Formula:
Employee turnover is the percentage of workers who leave your organization, the employment relationship ends and they are replaced by someone new. Attrition is different. This generally refers to the end of the employment relationship due to retirement or job elimination or employee death. When attrition occurs, the position is not filled with a new employee.
Cost of Employee Turnover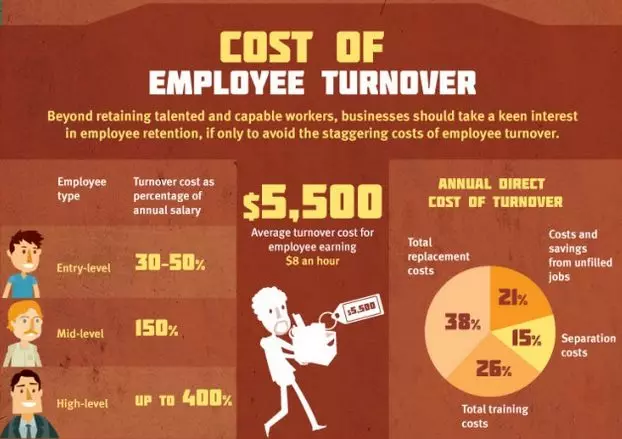 The Merits of an Employee Turnover Analysis
Measuring employee turnover can help you examine reasons for undesirable departures. Plus, some employee turnover formulas can help you estimate your cost-to-hire for budget projections, training requirements or estimating staff time devoted to recruitment activities. Basic turnover rate calculations are relatively simple:
If your company employs 100 employees and 15 employees are fired or quit, your turnover is 15%.
Detailed calculations can provide a deeper understanding of employee turnover. For example:
Five (5) employees leave in January.
One (1) employee leaves in May.
Four (4) employees leave in November.
Your annual turnover rate is 10%. Your average monthly turnover is 8.3%.
What happened during the months that your company had a high employee turnover rate? What internal and external factors played a role?
32% of employees leave for career advancement or promotion opportunities.
22% of employees leave based on pay and benefits.
20% of employees leave due to lack of fit for job.
17% of employees leave as a result of management or work environment.
Turnover rates vary by industry. For example, as of 2010 the 10-year average annual employee turnover in the retail industry was 34.7%, while in education it was only 13.2%. To find employee turnover information for your industry, consult industry trade journals or the U.S. Bureau of Labor Statistics. This will provide a benchmark for understanding your own turnover rates. However, much like any other KPI, it's more important to monitor your own rates over time. This will help you identify trends, issues and opportunities.
An Employee Turnover Rate Formula
TR

 = (T/((O + E)/2)) X 100
TR is the turnover rate, T is the number of terminated or otherwise departed employees, O is the size of your workforce at the onset of your period, and E represents the ending size of your workforce. For example, if you have 75 employees at the start of the period and 85 at the end, your average number of employees is 80. If 16 employees left, that's 16/80, or 20%.
Overall employee turnover only tells you if your turnover is high or low for your industry or based on your own trends. It is also important to consider particular groups of employees. For example, approximately 22% of staff turnover occurs in the first 45 days of employment. However, new employees who went through a structured on-boarding program were 58% more likely to be with the organization after three years. If you've implemented changes to your orientation process, this employee turnover formula will help you determine if those changes have had a positive impact.
NR

= (NE/T) X 100
NR is the new employee turnover ratio, T is the number of terminated or otherwise departed employees, and NE is the number of new employees (with your organization for less than one year) that separated from your organization during the same period. If the percentage of new employees who left vs. more tenured staff is a high figure for your industry, you may have some problems retaining new staff. Consider new on-boarding and training plans.
Plays well with these activities...
Group Size: 15 – 150
Time: Typical sessions vary from half-day, one-day or two day