The first day of spring is March 20th, but depending on where you live it might be here sooner than you think. It's never too early to get out of hibernation and start planning something for your team to look forward to, especially after a long winter. Whether your team is remote, in-person, or anything in between there is a plethora of spring team building activities and ideas to bring everyone together.
Spring is all about renewal and growth, so get excited about the sunshine and "spring" into some spring team building activities to plan for over the next few months.
Spring Team Building Activities Your Team Will Love
1) Plan a Field Day
A field day is a fun and easy way to get out of the office, boost morale and promote teamwork. Remember as a kid when it was finally nice out but you had to stay in the classroom so you passed the time gazing outside? Well, adults do it to! A field day doesn't have to be high strenuous activity either, it can be simple games with refreshments and even all different stations. And if you want to make a day out of it, here are our two favorites:
Outrageous Games
Outrageous Games is a high-energy, fast-paced spring team building program. It doubles as an extremely fun office Olympics activity. Your group competes head-to-head in ten wacky, wild, decidedly non-athletic relay races. The games are designed to build team strength, facilitate communication and develop problem-solving skills. All are suitable for a wide range of ages and athletic abilities.
Corporate Survivor
In true Survivor fashion, this spring corporate event idea is an opportunity to see your group working, laughing and learning together like never before. They'll enjoy all the drama and adrenaline rush of the real Survivor experience as they work to outwit, outplay and outlast the competition.
---
2) Cooking Challenge
Organize a cooking challenge and compete to see who can prepare the most delicious dish. Spring team building means you can break out the warm weather recipes. There are many ways you can do this. It could be less of a competition and more of a potluck where everyone brings a dish, or you could divide into teams and have them prepare either identical or different recipes. Either way, the outcome will both be enjoyable and delectable. Need some ideas? Here are some favorites:
Team Chili Cook Off
This fiery spring team building favorite combines creativity, resourcefulness, and skill. Each group starts with chili basics like meat and tomatoes. But collecting other ingredients means bartering while completing fun challenges. The Team Chili Cook Off is sure to ignite your team potential.
---
3) Participate In Take Your Child to Work Day
On Thursday, April 27 we recognize Take Your Child to Work Day across the US. Whether you are in person or virtual, set some time aside at the end of the day and do a fun activity with the kids. They will appreciate it just as much as you do. Our Cookie Tales event is perfect for attendees of all ages and even if you don't have kids, you're still guaranteed to have a blast. Whether you are young or old, everyone likes to decorate cookies, and this activity is the perfect way to get your group to collaborate and let loose. The only thing you will love more than creating these projects is eating them!
There are so many fun ideas to celebrate with the little one's at the office. So be sure to rock take your child to work day and be the office everyone is talking about.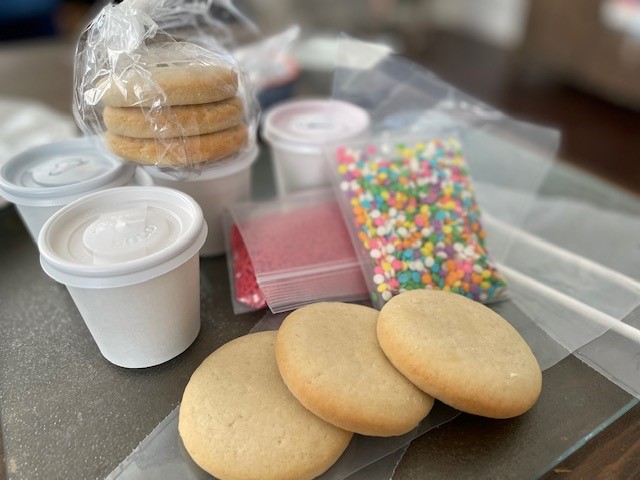 ---
4) Make An Impact For Earth Day
Take Your Child to Work Day isn't the only holiday that takes place in April. This year, celebrate Earth Day and make an impact as a team. Whether you are volunteering to clean up litter as a team or raising money to donate to an environmentally friendly cause, working together as a team to make a difference helps improve collaboration and increases morale. Or, you can try a more unique approach with a spring team building activity that is just as fun as it is charitable. Our Impact Online event allows your team to compete through unique challenges, thought-provoking trivia, and more. In the end, team points are converted into donations to the B1G1 charity, a 501(c)(3) organization that supports the United Nations Sustainable Development Goals.
Or take your team on a fun adventure with the Do Good Bus. Hop on the bus for a day of fun, team building, lunch, and a mystery volunteer location. Participants don't know where they're going, but they know they're going to do good. This activity makes a direct community impact and forge authentic connections.
---
5) Host A Spring Scavenger Hunt
What better way to celebrate the start to spring than with a fun and engaging scavenger hunt? Hosting a scavenger hunt event is a fun and easy way to bring your team together while also getting some outdoor time. Check out some of our best tips for setting up a scavenger hunt at the office. Here are  a few of the best of the best, high-tech, full-facilitated scavenger hunts around.
Amazing Race
Loosely based on the TV hit The Amazing Race teams choose their own route through the race, completing challenges as they go. Custom designed for your choice of neighborhood, this exciting event keeps teams on their toes as they try to earn the most points and win the competition!
Mad Dash
This high-tech scavenger hunt is perfect for a team looking to work on strategy and time management skills while having fun exploring your city and experiencing a little friendly competition. With the latest technology, convenient gameplay, and a flexible location all while focusing on core team building skills.
If you're remote, you still have options! TeamBonding offers a variety of virtual scavenger hunt activities so you can bring your team together remotely.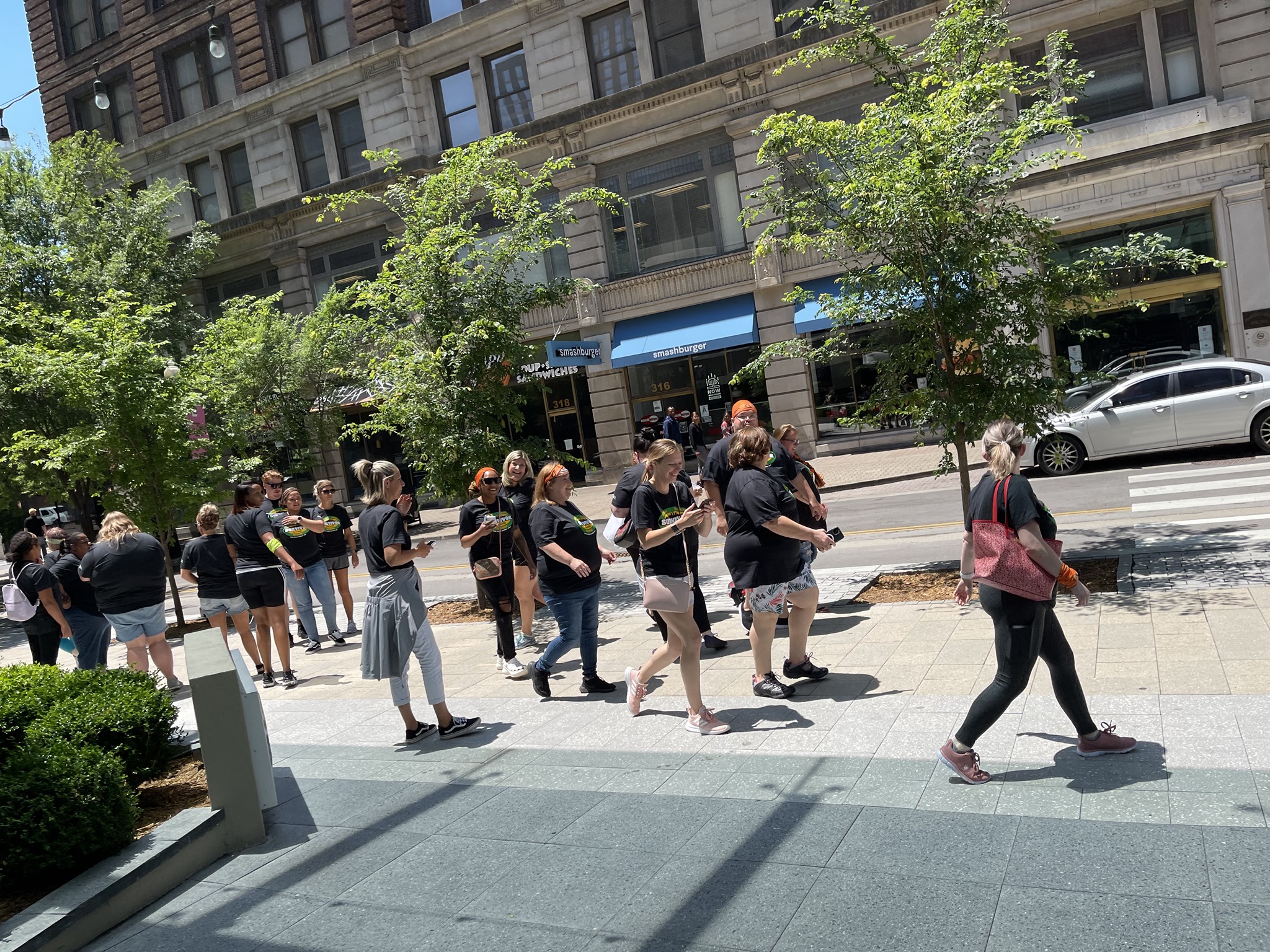 ---
6) Enjoy The Beginning of the Kentucky Derby As A Team
Start getting excited for the "most exciting two minutes in sports"! This year, the opening day of the Kentucky Derby lands on Saturday, May 6th, making for a great Friday afternoon celebration idea for the team. Kick off the derby At the Virtual Races and experience all the excitement you would at a racetrack. Feel free to dress up and wear your best hat to make this spring team building experience more memorable.
---
7) Organize A Cinco de Mayo Party
There are so many fun ways that you can celebrate Cinco de Mayo. You could send your team some delicious Mexican-style food or if you can't go out for drinks after work, having cocktails together hosted by our-world-class mixologist by video chat could help fill the void! Or, compete in a Salsa Competition to unveil your inner chef this Cinco de Mayo.
---
8) Give Back As A Team
After the past couple years, it is more important than ever for companies to give back to the community. Set a workplace volunteering day this spring and encourage your workers to spend the day volunteering at an organization of their choice. Or, if you are looking to volunteer as a team, consider an employee volunteering program. At TeamBonding, we offer a variety of Employee Volunteering activities and programs that not only give back but bring your team together like never before. The best spring theme ideas for work are the ones that help others.
---
Start Planning Your Spring Team Building Activity
As the snow begins to melt and the much-needed warm weather approaches, use it as an opportunity to show your employees you care and want them to be their best. This spring, prepare to have fun, foster teamwork, build trust and encourage creativity with team building events. Contact us for a quote on one of our many spring team building activities and see how it can benefit your team!