On the fourth Thursday of each April, more than 37 million people participate in Bring Your Child to Work Day, which this year falls on Thursday, April 27th, 2023. 

The program was originally created in 1993 and called 'Take Our Daughters to Work Program', as a response to research that found many girls lacked confidence and were dropping out of school by the eighth grade.  Since then, the day has become more commonly known as Bring Your Child to Work Day, or Take Our Kids to Work Day, to include sons as well as daughters. 
When it comes to Bring Your Child to Work Day activities that will make the day fun, exciting and educational, TeamBonding has you covered. Taking your kids to work provides a great opportunity to expose children to the workplace through hands-on experiences. However, there are things parents and workplaces need to be cautious of. 
Top dos and don'ts for bring your child to work day activities
1. Plan ahead.
Confirm if your company has any bring your kid to work day activities planned and think about what your child, or children, will participate in ahead of time. 
2. Keep your child's perspective in mind.
Make it interesting and fun but keep it realistic. If you know there aren't going to be any activities planned, but they are still allowing kids come to the office, make sure to come up with some fun things they could do or help you with. For instance, you could print off fun worksheets they can complete that have to do with your business.

3. Take your child for a tour of the office and introduce them to coworkers.
Have a conference room whiteboard they can draw on to their heart's content? Show them! A coworker who can always be counted on to have a candy bowl out? Let them in on the secret! 
4. Allow yourself time to get work done.
Don't just have them shadow you but include them in the parts that may be interesting for them and expose them to what you do each day. Keep your children engaged with activities that do not require a lot of hands-on supervision to allow you time to focus on what you need to get done. 
5. Coordinate with other co-workers whose children will be there as well.
Plan a group activity for all the kids and parents to do together. Include other members from your team who would enjoy having fun with the kids too; it's a great opportunity to strengthen relationships within your team. 
Planning ahead will help you and your company make the day a fun success and keep it stress-free. Here are 9 bring your child to work day activities that kids and coworkers will both love.  
Bring Your Child to Work Day Activities

We Love
1. Outrageous Games
Who says work can't be fun? Get your entire team, adults and kids alike, up and moving for some friendly competition with wacky (non-athletic) relay races. With crazy props, an awards ceremony, and even a DJ, your whole team will be cheering for Outrageous Games to become an annual event for bring your kid to work day.  
What your kids will experience and learn about: 
Teamwork

 

Problem-solving

 

Communication

 
---
2. Healthcare Heroes
Embark on a scavenger hunt with your child and your team. Work together through video and photo challenges, trivia, and other fun obstacles as you collect items for healthcare appreciation bags which will be donated to a local hospital. 
What your kids will experience and learn about: 
Giving back

 

Friendly competition

 

Teamwork

 
---
3. Cookie Tales
Feeling artistic? Cookie Tales allows remote teams to tell stories through designs on their cookies and includes some of our favorite ingredients for a successful event – creativity, teamwork and a tangible (edible) outcome designed to make everyone smile. 
What your kids will experience and learn about: 
Creativity

 

Strategic thinking

 

Collaboration

 
---
4. In It To Win It
Compete for a grand championship prize through ten simple but nerve-wracking games that increase in difficulty. With 60 seconds on the clock, the pressure builds, and team pride is on the line! 
With In It To Win It, teams get a 30-minute training camp to practice challenges. This program can be customized to include games unique to your organization, especially for bring your child to work day 2023. It makes a great repeat annual event for you and your kids to earn new bragging rights and new prizes each year.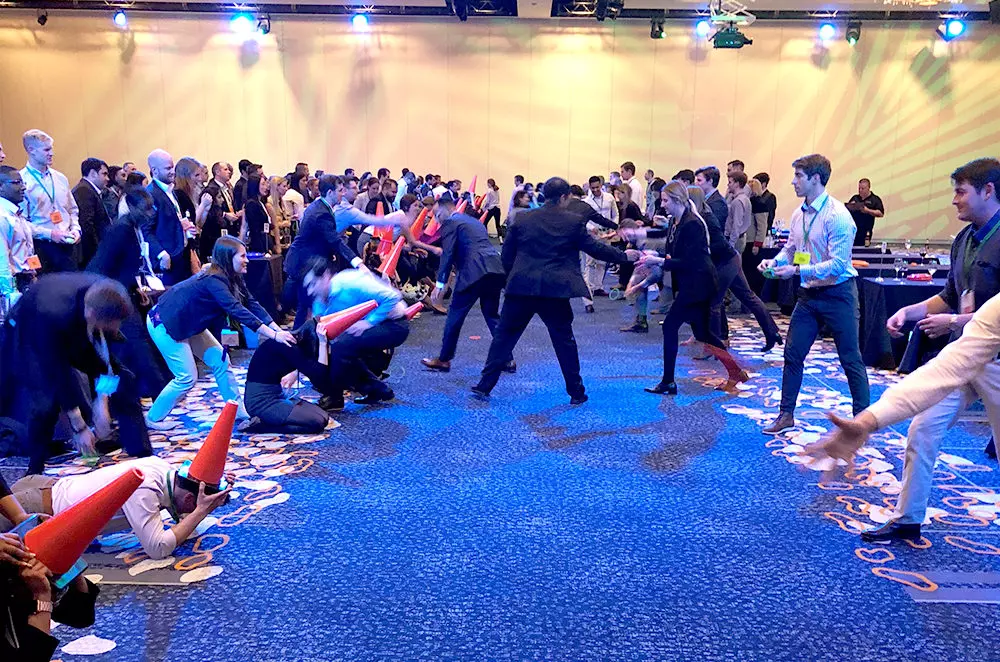 What your kids will experience and learn about: 
Healthy competition

 

How to develop positive relationships

 

Interacting with others

 

Resourcefulness and quick thinking

 
---
5. Save the Bees
This trivia-style game show highlights The Bee Cause Project and their mission. Test your knowledge and learn all about the importance of bees and their impact on the world. To make the experience even more sweet, you will get to enjoy a honey tasting of 4 different locally sourced honey samples!
What your kids will experience and learn about: 
The importance and impact of bees for future generations

 

Collaboration

 
---
6. Paws For A Cause
Children of all ages can benefit from giving back to the community. Philanthropic programs such as Paws for a Cause give kids real responsibilities and allow each child to see their impact on something greater than themselves.
You, your team and your kids work together to build and donate much needed supplies for local animal shelters. Millions of animals end up in one of over 5,000 shelters nationwide each year. Many of these facilities need help with caring for our beloved family members before they are adopted.
What your kids will experience and learn about:
Time management
Collaborating with others
How to communicate with a team
---
7. Team Teddy Rescue Bear
Designed to be both competitive, and collaborative, in Team Teddy Rescue Bear kids must solve puzzles, decipher codes, and unlock secrets in order to acquire the resources that they need to build a series of custom teddy bears. We love this activity for bring your kid to work day. It allows them to have a meaningful impact on another child's life.
More than 11 million children are transported for emergency medical care each year. A Rescue Bear given by a police officer or firefighter can be a powerful way to help ease pain and worries, calming a child significantly at a potentially frightening time.
What your kids will experience and learn about:
Resource management
Creative problem solving
Big-picture thinking
---
8. Chocolate Company Challenge
Kids take part in a series of deliciously choco-centric events, each building off the other. The emphasis can either be competitive (just for fun) or collaborative (big picture thinking). Kids and candy? It just goes together.
What your kids will experience and learn about:
How to build camaraderie
Engineering skills
Innovative thinking
How to connect teamwork to success
---
9. Virtual Museum Scavenger Hunt
Explore world-class museums and the wonders of the world on a team building virtual scavenger hunt. During the activity, you'll complete fun team challenges including trivia, video, and photo challenges all designed for you to bond with your team while you discover interesting facts and have fun.
What your kids will experience and learn about:
Culture
History
How to work well in a team
---
Plan An Exciting Bring Your Child To Work Day
By participating in bring your child to work day activities, both parents and children have the opportunity to create memories to last a lifetime. Make the most out of this special day and help show your child the meaningful work that you do. If you need help putting together an epic day, contact TeamBonding for all your event planning needs.