Are you planning outdoor team-building activities? Do you need help keeping track of everything? We created this checklist to make sure you stay organized and arrange everything successfully without the stress that comes with preparations.

But before you get started with your team building planning, consider the following:
1. What are your goals for the day's activities?
What do you want to accomplish and work on? Does your team need to brush up on their communication skills? Do you have new hires that are trying to get acquainted? Figure this out so that you can choose the outdoor team building activities that will be most beneficial for your team.
If you're looking for a morale boost to bring your team together, opt for an action packed activity like Corporate Survivor. Or, if you are hoping to build team communication skills, try a powerful and impactful activity like our Haka team building event. Not sure which activities will best fit your team's needs? Filter our outdoor activities by "Outcomes" to find the best events for your team.
2. What is your budget?
Finding a free space outdoors might be easy for some but for others, a challenge. A suggestion would be to research public parks in your area with enough room to fit your team. Keep in mind you may need to spend a little on equipment that may be needed for your activity. Also, food and water might be something to consider. Stay under budget and stay away from stress!
When it comes to budget, you need to figure out just how much money you can spend, and how to ration it.
3. How does your team plan to stay "bonded" once the activities are over?
Don't let this be just one day of fun. Take your new skills back to the office to maximize results. In addition to this, plan more activities for the future. Try not to stop your team-building efforts!
Once you have answered the essential questions above, you can move on and plan the day!
Here is your team building checklist for a perfect day with your coworkers:

1. Find the perfect location to accommodate all team members
As the first thing on our planning checklist, we have a really important question: where are your team building activities going to take place? This becomes even more complicated when you consider teams that are fully remote or hybrid. It is important that the location you host the outdoor event is centrally located for all team members and easy for them to access. Most of the time, this means having an onsite event at the location of your office space (if there is an outdoor area available) or having an outdoor event at a public park near your office. 
If all of your employees are dispersed, consider hosting a remote event that still allows the participants to get outside, such as an outdoor scavenger hunt or virtual wellness challenges.
If you are unsure where your employees would prefer to have their outdoor event, send an anonymous survey with a few location options and put it to a vote.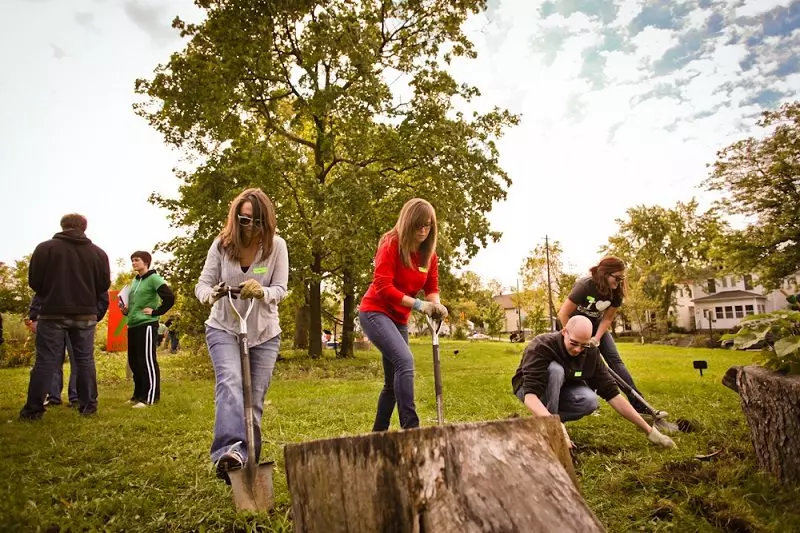 2. Create a list of participants
Who is interested in participating in these activities? Is it mandatory that everyone goes? Plan for this ahead of time so that people won't be left out. Check that you have enough people willing to join so that teams are fair and have enough members. One of the things to avoid when planning team building events is having only a small part of the team present as it won't be as beneficial as with everyone there
3. Choose the right date and time
When it comes to team building planning, just like with many other things in life, timing is everything. Set a date and figure out how long the event will last. This will depend on the type of activities you choose. If you plan to go out on a lunch break make sure that proper coverage will be available.
4. Organize transportation for everyone
Transportation plays an important role here, especially if you choose a more remote location for your team building day. Will you and your team be walking, driving, or taking public transportation to your outdoor event? Ensure that whichever method you choose, it will accommodate everyone joining. That way your coworkers won't have to think about it, instead, they can spend pleasant time bonding.
5. Provide equipment for activities
Depending on which team building activities you choose, you may need some equipment. Being outdoors gives you the freedom of an open area so take advantage of this! Bring items that are easy to transport and ensure fast clean-up. Or, let TeamBonding take care of transportation and hop on the Do Good Bus or Mystery Bus. 
Feeling overwhelmed by all of the planning details? Consider working with team building event experts. At TeamBonding, we will organize the event details and provide everything needed for a successful outdoor event, including transportation.
6. What about…
Food/water? Being outdoors in some parts of the country might make for a hot day. In that case, the most important thing to bring to team building outdoors will be snacks and water. Designate someone to bring them to stay nourished and hydrated if you expect to be in true summer weather.
Bathrooms? You'll want to make sure you have access to at least one restroom. Everyone will thank you.
Shade? Our suggestion is to have a shady cool spot to rest! You can use this space for a break if you are doing an all-day team building event. This is also an ideal spot to gather and talk about the activities before you start, as well as after, to recap.
Use this team building planning checklist again and again and share it with others who might need to kick start their outdoor event!
Book one of TeamBonding's most popular outdoor events
Tired of the event planning stress? Consider booking one of our most popular outdoor events, such as Corporate Survivor, Outrageous Games, Build a Boat, Wicked Good Chowda Cook Off, and Summer Camp Throwback.