She left you. It's over. You can't go back now! All you can do is learn from your mistakes.
Turnover can be rough, and it can be amicable; no matter what, no one really wants to go through it, not even the employee who's leaving you.

But you want to be a better manager…a stellar business owner…have the strongest team with the highest employee retention rates ever, right?!?! How can she leave you like this?!
There are several common causes for employee turnover.
32% of employees leave for career advancement or promotion opportunities.
22% of employees leave based on pay and benefits.
20% of employees leave due to lack of fit for job.
17% of employees leave as a result of management or work environment. (That's you!)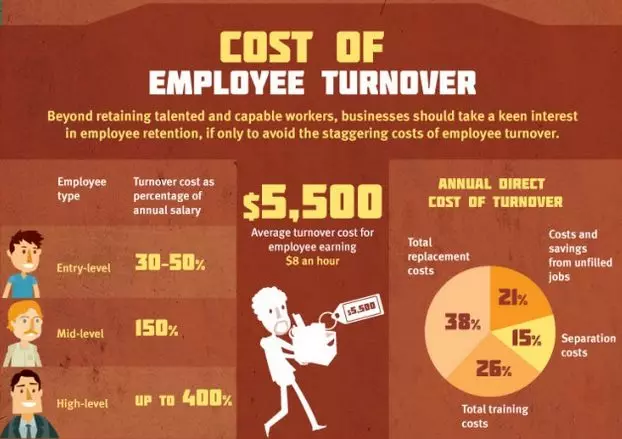 Via: BOLT Insurance
Alright, alright. It may have nothing to do with you. Most of the reasons for employee turnover are not personal, but you can do a lot to learn from the past and lay a better foundation for the future.
Employee turnover isn't just heartbreaking, it's expensive too. The average turnover cost for an employee earning $8 an hour is $5,500. Yowzah!
Step #1: Move on!
Just like with any breakup (even amicable), it's okay to feel like you have messed up – accepting responsibility for your mistakes is healthy (and helpful!). On the other hand, you must also accept that you are a good person.
She made some mistakes. You dropped the ball a few times. A stage of denial and a period of anger are completely natural, but acceptance is the key to being able to start moving on. If you can't stop pointing fingers, you can't really assess the situation without heavy bias.
Step #2: #lookatchaself!
Self reflection is key, for you and your organization. Think (and talk) about the issues that are contributing to employee turnover and identify solutions without talking about her. Focus on yourself. Get management involved in focusing on your organization, it's goals and how you're going to build stronger teams.
Look at where you've succeeded.
Talk with friends and peers.
Get feedback and advice from mentors.
Make a list of reminders, things you'd like to build on or improve.
Step #3: Build a new foundation.
You didn't forget about the rest of your team, did you? As a leader, you often need to deal with the break-up and continue fostering existing relationships simultaneously. That takes talent! You've got this in the bag. You just need some tools to help you stay focused.
How do you deal with employee turnover? Please share your words of wisdom with our readers.