Announcing TeamBonding's Top 10 Events of 2019 🏆
Offering 100+ unique team building events, we deliver our unmatched team building expertise anywhere in the world! Our goal is to improve communication, productivity, and create a positive company culture through employee engagement.
We've compiled a list of our top ten most popular team building events of 2019!
1. Charity Bike Build
Charity Bike Build reels in at our #1 most popular event… again! This wonderful team building event really takes Corporate Social Responsibility (CSR) to the next level. Working together in small teams, your group assembles quality bicycles, to be given to children who otherwise would never experience the joy and confidence that comes with riding a bike. TeamBonding handles all the logistics, providing all the bikes and tools you need while coordinating with a local organization like Big Brothers Big Sisters, Boys and Girls Clubs, etc. Along with a shiny new bike, each child will also receive a helmet and bike lock.
This CSR program is an extraordinary way to give your team a sense of connection beyond day-to-day work challenges. We've donated over 18,000 bikes to date!
CSR programs can help build bonds, strengthen communication skills and boost morale while making a positive difference in the lives of people who need it most.
Click here for more Corporate Social Responsibility programs.
2. Beat The Box
Beat The Box
is a mobile, fully scalable escape room-inspired team building activity. Truly an international phenomenon, over 50,000 people have enjoyed this competitive event in locations around the world. Here's how it works: after a short into video, each of your teams works to open a box, only to discover four smaller cases inside. Every case contains escape challenges that must be solved in order to unlock the next case. Ultimately, one team will be first to discover the mystery password that stops the clock. This event offers plenty of fast-paced excitement. It encourages creativity, collaboration, and quick thinking every step of the way. This is by far the most successful, international team building event.
Can your team Beat the Box?
3. Team Cuisine
Team Cuisine
™ gives your group the experience of preparing, enjoying and celebrating a serious gourmet meal. It's a deliciously fresh way to bring your team together outside the context of their day-to-day workplace relationships. We offer lots of menu options and can accommodate groups of all shapes and sizes. No wonder this is consistently one of our most popular events worldwide, year after year. Highly recommended as a way to kick off or wrap up a conference or meeting, or to celebrate a company milestone.
Let's get cooking!
4. The Infinite Loop

The Infinite Loop
is the world's first team building event using VR (virtual reality) technology. This simulating, role-playing, virtual reality video game is the future of team building! The scenario: Your team must rescue a young man who's been locked in a virtual prison. Each team is supplied with a  VR headset, and one team member at a time is able to explore the virtual world. Virtual travelers must describe their surroundings accurately as fellow team members race to solve real-world puzzles, unlock multiple doors, and release the trapped player from his virtual prison. A versatile, powerful event that provides players with continuous feedback, helping them to communicate more effectively and solve problems more efficiently.
This one of kind experience collides the real world with the virtual world. 
5. Ice Sculpting
Ice Sculpting
is one of the least expected and most successful events we've ever created. When we dreamed up an ice sculpting team building event, a few of our staff wondered if we'd finally lost it. But the first group who booked it absolutely loved everything about their event. Seriously, client feedback is off the charts, time after time. No chainsaws – just gloves, chisels and plenty of cooperation and laughter. Often, the results are actually pretty impressive. Some ambitious teams even do company logos and other key branding elements.
A great choice, no matter what the season.
6. Do Good Bus
Do Good Bus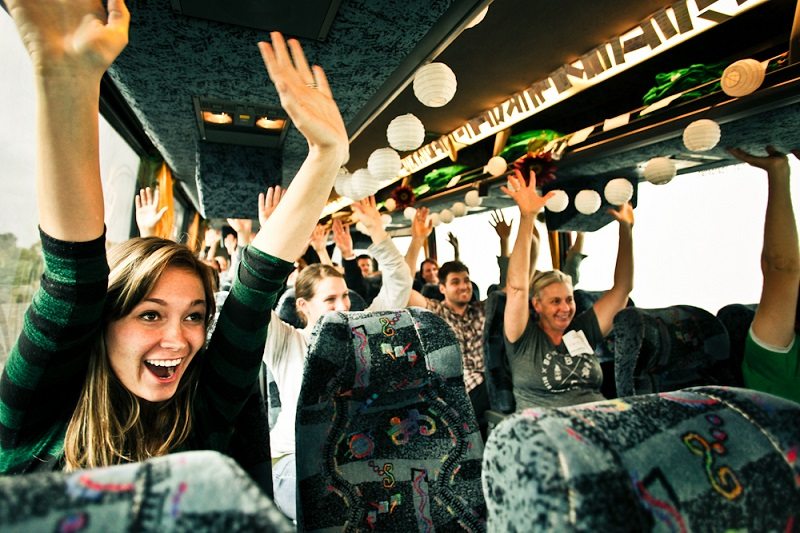 is a half-day social impact activity that allows your team to work together on a worthy cause while learning more about their community. We can draw from a wide network of volunteer opportunities and work together with you to pick a cause that best suits your organization. So give back, and hop on the Do Good Bus!  If you'd like to tell your team the event specifics, great… but many of our clients actually prefer to add the surprise factor – keeping it a secret from your team about where you are headed, and what you will be doing. Getting on the Do Good Bus is a great way for your team to work together, do good together, and learn about their community.
Hop on the Bus, we'll do the rest!
7. Survey Says
Survey Says
is a wildly entertaining game show, keeping the participants and the audience on the edge of their seats. This high-energy game show is equipped with your own TV Host and can be conducted a stand-alone event or during a meal. Think of this as the corporate team building version of Family Feud. Gather your co-workers, create your teams, and try to guess the top six to ten answers displayed on the board. Naturally, we customize the questions to highlight your group's company culture, branding, event theme, etc.  Multiple rounds ensure that the maximum number of people get a chance to play.
What team will win the final championship round?
8. Mr. Roboto
Mr. Roboto
is a fun and engaging team building event, packed with technology! The main goal of this event is for teams to build a fully functioning, high-tech robot, controllable via an iphone app! Winning teams must rely on communication, collaboration, and leadership to outperform the competition. This is a great way to keep up with the latest technology. It's also a fresh, hands-on way to improve skills, have fun together, and give back to the community. That's right, Mr. Roboto also features a charitable component. Which is perfect, as Robotics happens to be the #1 most-requested STEM subject, yet also the most underfunded. We make building robots accessible and fun!
Oh, and did we mention the awesome robot obstacle course?
9. In It to Win It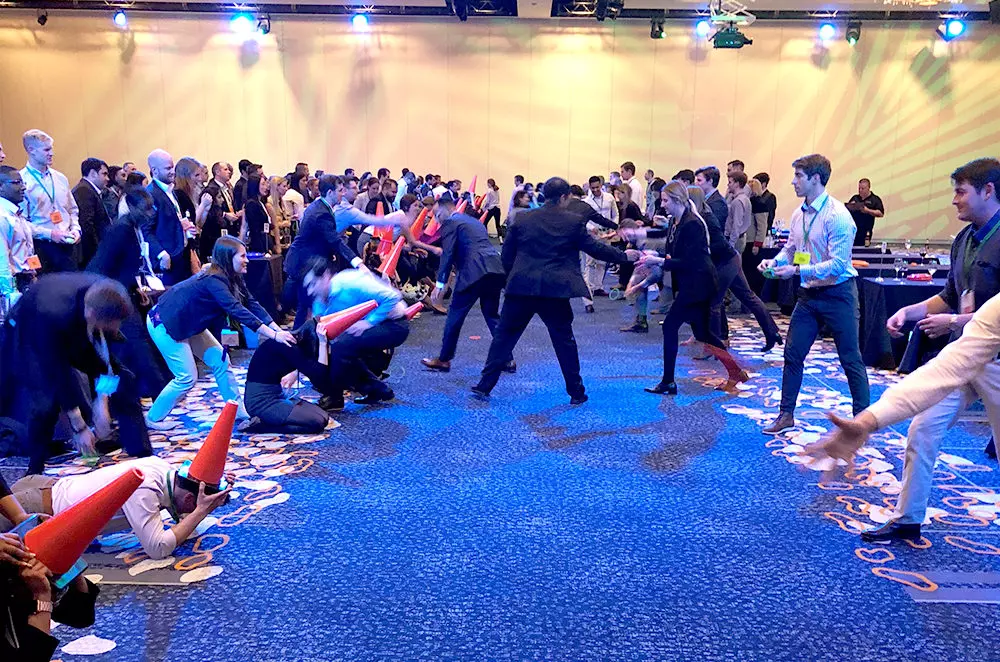 In It to Win It easily qualifies as one of our most popular events, year after year. After some energetic icebreakers, teams are taught the In It To Win It challenges, such as Full of Hot Air, Cone Head, and Bucket of Fun. Participants then have practice time to not only try the challenges, but brainstorm ways to be more successful when they compete. With 60 seconds on the clock, the pressure builds, and team pride is on the line! Our helpful and engaging facilitator will commentate on all the challenges along the way, building the excitement through humor and music. We take fun, friendly competition to a whole new level!
Are you the next In It To Win It Champion?
10. Clue Live the Scavenger Hunt
Clue Live the Scavenger Hunt
is a fun, interactive scavenger hunt based on Clue, the Musical, which is licensed exclusively to TeamBonding. The timeless mystery board game takes on a whole new dimension in this hilarious team building hunt! Working as detectives, your teams meet and question our cast of six live suspects. Along the way, they're also guaranteed to encounter mystery, treasure hunting and the real need for strong teamwork. Finally, they all take a stab at guessing the culprit, murder weapon and crime location. This lively production works well in a conference center or resort, or let us bring it directly to your own workplace. Clue Live is also available as a murder mystery dinner game, Clue Live Mansion Mystery held in a local mansion, library, or unique venue of your choosing.
Can your team solve the case?
Looking to Improve Work Performance for You and Your Employees?
If you want this year to be your most successful year yet, we can help. Break your employees out of their regular routine and get them working together in fun and exciting ways to help improve work performance. Contact us today to see the wide range of team-building activities and events we offer.