The recent shift to hybrid work models has created challenges for many companies. Lack of communication and purpose are causing remote and hybrid workers to lose morale and focus. Furthermore, younger professionals are finding it difficult to build strong connections with coworkers in the virtual space. 
To help us understand the hybrid work model and how it's affecting company culture, we sat down with David Goldstein, COO of TeamBonding, and Daphne Hoppenot, Founder of The Vendry. 
In the latest episode of the TeamBonding podcast, Sustaining Culture in a Hybrid Workplace, Daphne identifies some of the challenges of hybrid work culture.
"For young professionals, remote work might be a disservice to them. I think you get better training in person. I think virtual can be very transactional and it's hard to have those in-between moments, both socially and professionally." 
What Is a Hybrid Work Environment?
The hybrid workplace model combines on-site workers with those who are working remotely. This type of work dynamic offers most employees the flexibility of choosing where and when to work. 
Individual employees can choose how many days out of the week they want to work from the office or their home. Some companies may choose to have their employees work from the office two or three days a week, while others may only require employees to be present at monthly meetings. 
In a hybrid work environment, employees generally enjoy more autonomy and better work-life balance as they are able to fit work around their lives as opposed to having a rigid 9 to 5 schedule in the office. 
Pros of Hybrid Workspaces
A hybrid work model focuses more on the employee experience. As David Goldstein states in the latest podcast, this opens up a lot of opportunities for both the employee and employer. 
"Not only for companies to access different types of workers than they would have had before, but it also offers employees the chance to be able to work for a company that they may not have been able to work for before if they aren't geographically desirable." 
Some of the most common benefits of building a hybrid work culture include:
Better work-life balance:

A hybrid work culture offers greater flexibility and improved work-life balance. Employees can reasonably manage their schedules and fit work around their lives. Subsequently, greater flexibility results in higher job satisfaction and less stress for the employee which may lead to

lower turnover rates

. 

Lower costs:

Not having an entire team in the office at one time allows companies to downsize their office space or opt for coworking spaces. This could significantly reduce monthly expenses related to rent and equipment. 

Increased productivity:

Managers are often skeptical of employee productivity outside of the office. However, fewer at-home interruptions, increased autonomy, and repurposed commuting time are some of the factors that actually help

boost employee productivity

. With a mix of in-office and remote work, team members may benefit from access to face time with colleagues on projects that require in-person collaboration. But when they need a deeper focus, hybrid workspaces give them the option to transition to an environment with fewer interruptions and distractions. 
Cons of Hybrid Workspaces
Although a hybrid work culture provides several benefits to both the employer and employee, the new working model also presents several challenges. 
Isolation & disconnect:

Employees who are fully remote may feel disconnected from the rest of their coworkers which may decrease morale and performance. Managers need to ensure that all employees – at home and in the office – have the same opportunities for growth and access to the same resources.

Accountability:

Managers and executives have had to give up the traditional sense of control due to flexible working hours and locations. However, it is essential to establish expectations and create new forms of accountability that align with the hybrid work culture. 

Strained communication:

Communicating in real-time can be challenging in hybrid teams that are scattered across different cities, countries, or time zones. Companies need to put in the extra effort to ensure employees can exchange information and communicate without technical difficulties. This involves providing your employees with adequate tools, apps, and equipment.
4 Tips for Sustaining a Positive Hybrid Work Culture
Company culture can be defined as the ethos of an organization that is built on trust and a sense of belonging. This once relied on building relationships and connections through physical interactions, but the new hybrid model focuses more on individual autonomy and collective goals. 
Here's our list of four essentials tips for maintaining a positive company culture in hybrid work arrangements. 
1. Create a Shared Purpose
Someone who has been working remotely for a long time may lose sight of company goals and job purpose. In order to maintain positive company culture, managers have to discuss the big picture and ensure each team member understands how their work is making a positive impact. 
TeamBonding's Cookie Tales team building event is a fantastic option if you want to encourage your people to connect in meaningful ways through storytelling. This event will help you demonstrate to your team how their valuable work fits as an essential piece in the bigger picture.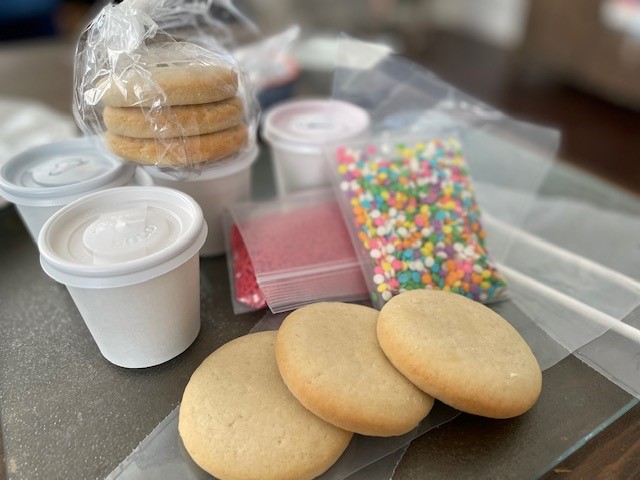 2. Celebrate Success
Employee recognition is important for maintaining positive company culture. This is especially true in a hybrid work model where small achievements or milestones may go unnoticed outside of the office. 
Personalized messages, awards, and employee recognition programs are great ways to celebrate team accomplishments and boost company loyalty. 
3. Schedule Time Together
One of the greatest challenges of hybrid work culture is creating and maintaining relationships with coworkers. Building strong bonds was simple when we all had to be in the office eight hours a day. However, for fully remote or hybrid teams it has become more difficult to create these relationships virtually. 
Dedicating an hour a week to a team meeting can help hybrid employees feel more connected. Not only is this a chance for coworkers to interact with each other, but it also allows them to update one another on current projects, as well as any personal or life events. 
Team building activities are another effective way to foster employee connections and build a positive company culture. 
Teambonding's In It To Win It and At the Races are high-energy activities that will give your group the opportunity to work, laugh, and learn together while engaging in friendly competition. These programs are sure to build team strength and improve communication.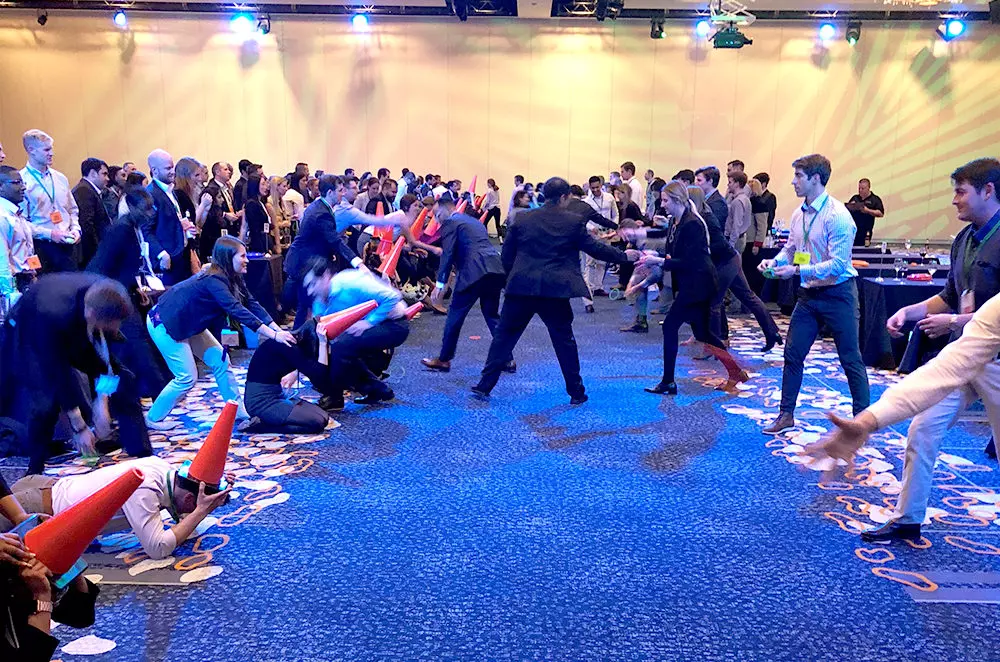 4. Encourage Feedback 
Focusing on the employee experience can help you maintain a positive and engaged company culture. Encourage your employees to provide feedback, but also make sure to follow through on your promises. If your employees are asking for better tools to help them do their job more efficiently, do your best to plan out your budget accordingly and get them the tools they need.
Workers who feel valued and understood are happier and more productive. 
Final Thoughts
Ideal hybrid work culture is one where all employees, no matter the location, are productive, engaged, and feel connected to one another. By creating a shared purpose, celebrating wins, and scheduling time together you can build a sense of belonging and maintain a positive company culture. 
If you're interested in learning more about what it takes to build a strong company culture, be sure to listen to the entire Sustaining Culture in a Hybrid Workplace podcast with David Goldstein and Daphne Hoppenot. 
You can also explore other TeamBonding activities to help build relationships within your hybrid team.