Since 1970, each year over 1 billion people across 190 countries unite to celebrate Earth Day and the modern environmental movement. Earth Day falls on April 22nd each year. Recently, more and more companies have begun to start green initiatives to help save the Earth and reduce their footprint. Studies show that over 71% of global greenhouse emissions contributing to global warming come specifically from 100 companies, among other negative environmental impacts. Check out these alarming statistics from Rubicon:
Americans make up roughly 5% of the world's population but generate nearly 40% of the world's total waste
In a lifetime, the average American will leave a legacy of 90,000 pounds of trash for future generations
Nearly one-third of the waste generated yearly in the United States is from product packaging
Why should companies care about Earth Day and sustainability?
1. Cost savings
Reducing the consumption of energy, water, and waste in the office will ultimately lead to saving money and resources that can be used elsewhere. These costs can be cut by making simple changes like not heating an empty office or installing lights that detect motion.
2. Consumer values
Focusing on your environmental footprint as a company not only has monetary value but creates a positive brand image in the mind of the consumer. According to BusinessWire, sustainability is one of the most important purchase criteria for at least 60% of global consumers. The study shows over 30% of consumers are open to paying a higher price for sustainable products, and suggests that sustainability is likely to become, "the expectation and not the exception in the future".
3. Employee values
Today employees are no longer just looking at just job titles and pay. Gen Z and Millenials are set to make up the majority of the workforce by 2025. These generations prioritize job offers based on flexibility, benefits, and seek employment with socially and environmentally responsible companies. By creating a sustainable impact program or plan, companies can attract and retain top talent while improving their global footprint.
How to get started making an impact
For many organizations and individuals who want to make a real impact for our planet, one of the biggest challenges can be knowing where to start. Earth Day is the perfect opportunity to begin to shape your new company initiatives. But the most important thing to remember is even the smallest contribution is still a positive step in the right direction. Here are a few simple ways your office can work towards being eco-friendly:
Work towards going paper-free
Install a bottle-filling station to reduce plastic waste
Have clearly marked trash and recycling bins around the office
Make use of natural light
Don't heat or keep lights on in an empty office
Use sustainable packing materials
Set goals to reduce your carbon footprint
Check out more ways your office can go green here.
How to celebrate Earth Day at work
If your company isn't ready to commit to an impact plan, your team can still help the Earth. Check out some of our favorite Earth Day ideas and activities for work:
1. Impact Online
This powerful event was created specifically as a way of inspiring teams to make meaningful, specific changes and take action towards a more sustainable future. While working through fun challenges, they'll learn how they can make meaningful changes that support the 17 Sustainable Development Goals published by the United Nations. Team points are converted into donations to the B1G1 charity, a 501(c)(3) organization working in support of the United Nations Sustainable Development Goals.
2. Clean Water Connection
Celebrate Earth Day with this earth day idea for work that offers a meaningful, hands-on approach to impacting communities around the world with clean water. In just a few hours, your team has the power to change someone's life for generations.
3. Save the Bees Project
Build a future for the next generation. Teams begin by learning about TeamBondingCSR's non-profit partner: The Bee Cause Project, their impact and mission by competing in a team building trivia-style game show. This Earth Day idea for work will test your team's knowledge, improve team interaction, all while promoting awareness to save the bees. Each participant will receive a build-it-yourself kit to create a mason bee house, plant a wildflower garden, and build a save the bee awareness bracelet. The hands-on experiences don't stop there – teams will even do a honey tasting of 4 different locally sourced honey samples!
4. Tree Planting
Where would we be without trees? This Earth Day idea for work makes planting a tree easy. Learn how trees provide an important habitat for wildlife and are fundamental to many ecosystems. In this event, each participant will receive a build-it-yourself kit. Teams will build origami planting pots, get their hands dirty, and plant seeds that will eventually grow to pine trees. Volunteers will have the opportunity to plant two trees by digitally planting a tree in a region of their choosing.
5. Do Good Bus
Hop on the bus, we'll do the rest. Choose to focus on one of three categories for your event – people, animals or the environment. The Do Good Bus is a great way to celebrate Earth Day as your team works together, does good together, and learns about their community. Working side-by-side, your team will forge lasting, authentic connections while making a genuine positive impact.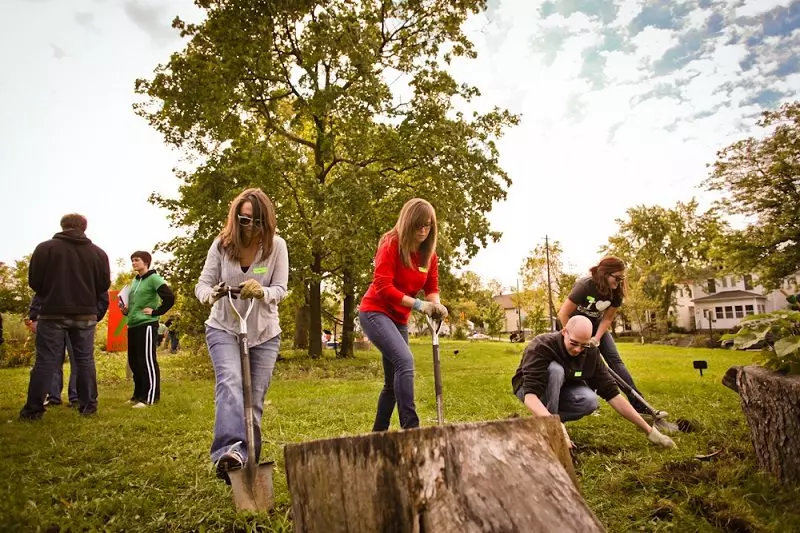 6. Bikes for the Biosphere
With a mission to broaden access to cycling and its many benefits, Bikes for the Biosphere has teams building and donating adult bicycles for local Community Centers. As modes of transport go, they don't come much 'greener' than cycling. Every turn of the pedal helps protect our planet in one way or another.
---
Get Started With These Earth Day Ideas
Earth Day is a wonderful opportunity to inspire action and contribute to a healthier and more sustainable future for generations to come. By celebrating and taking part in fun and engaging activities, we can encourage employees to take small steps towards a greener workplace and world. Join forces with us and contact us for help on how to celebrate Earth Day and get started with a fun and engaging Earth Day activity for your team.