Team building exercises with PowerPoints and icebreakers are great. But if you really want your team to come together than blurting off odd facts probably won't cut it. When you're looking to get your corporate team out of the office and interacting with each other, check out these 9 Best Team Building Activities in Atlanta.
The Mystery Bus is a custom-tailored team building event that takes you to the most fun, hidden and unique experiences in the city of your choice. It's a surprise for everyone as we hand pick each of your destinations tailored to match your team's interests, time frame and budget. Your stops will include a physical activity, a culinary adventure and a cultural experience.
Work with your team to capture the best trailer for your next Hollywood blockbuster. Film your trailer and screen it for the other teams to watch as the judges decide which movie is the box-office must have.
Watch your team come together, energized and ready to win as our Maori warriors storm the stage, chant and perform the Haka.
Step out of your comfort zone and dine in the dark. You and your team will all be blindfolded and led through a tasting as you work together to guess what you are eating while working through tabletop team challenges.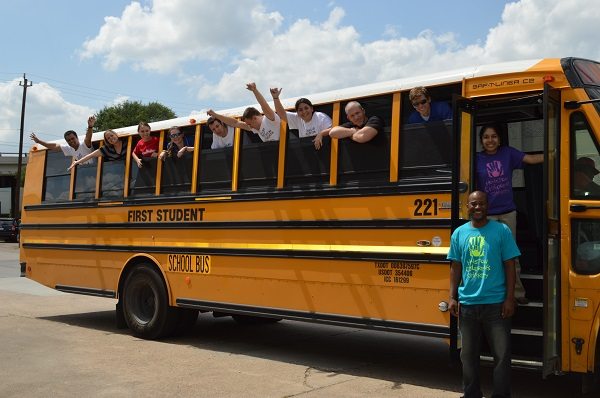 Connect with your team and give back to the community while doing it. Whether it's your local community or you're just stopping in the city, we can find a cause that fits with your team.
This is a hands-on team building activity that requires real teamwork plus inter-team collaboration, negotiation and competition. It will have everyone in your team totally absorbed.
With our Charity Bike Build, teams race against each other to solve trivia and build a number of children's bicycles. These bicycles will be gifted to children whose families cannot afford to buy them one. We usually partner with charities like the Boys and Girls Clubs and Bikes for Tykes, but we can also partner with any local charity of your choice.
More than just trust exercises and trust falls, our TeamProv program consists of a workshop that teaches your team soft business skills. Skills that allow them to create more meaningful relationships with colleagues and contribute to having a productive work environment.
9. Go Team High Tech Team Building Scavenger Hunts
Our high tech iPad and smartphone scavenger hunt is a team building program with a conventional twist. With options ranging from our Go Team Amazing Race to the City Explorer, we can personalize your GoTek to reach your team's objectives.