Working as a team, participants prepare, enjoy and celebrate a serious multi-course gourmet meal. TeamCuisine™ is our flagship culinary team building experience and makes an especially great choice for getting everyone on board quickly on the first day of a company conference, or as a celebratory event after a successful project completion.
The final outcome is the realization of the task accomplished: The conception, creation, and production of an exquisite 5-star gourmet banquet – without the aid of a proper kitchen, recipes or culinary training, in an extremely limited amount of time. This achievement, followed by the enjoyment of sharing a fine meal together, is a powerful metaphor to share with your team and to bring back to your work place.
* This is the original culinary team building program that has been enjoyed by hundreds of teams, in the US, Canada, Mexico, Panama and as far away as Japan.  
New menus that fit your theme: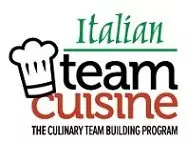 Group size
10 – 250+
Time needed
3 – 4 hours including debrief
Space requirements
Our approach allows us to come to your favorite hotel, conference center, winery or auditorium, allowing for easy planning. This is an indoor program that requires a table for each team and banquet tables for our materials and meal presentation. We request a space consisting of a minimum of 30 square feet per participant, and both the food preparation and dining will take place within this space.
"The Team Cuisine program got rave reviews from our participants, as usual! We look forward to working with you all in the future."

C.R. – CACI International
"We had a great time, and Richard was just fabulous!  My boss has not been able to stop talking about this event, and I can't thank you and Richard enough – you were very key to making this such a successful event!  I will absolutely recommend you to my colleagues!"

D.R. – Tate & Lyle
"You did an outstanding job getting the group to follow directions, build relationships and create a fabulous dinner! I received all positive feedback."

M.K. – Rockwell Automation
"The Team Cuisine event was fantastic! – All the folks I thought would be so hard to please actually enjoyed it so much that they let me know what a great experience it was. We ended up having a very full group and Richard and his team did a fantastic job not only working with the hotel and their staff but with our group. I have suggested your website to several people already as well as the hotel – since they asked where I got this event from. Thanks again!"

J.C. – Sirius Satellite Radio