Shark Teams
Like a shark, in the business world, you must constantly be moving to stay alive. What's next? Bigger? Better? And, like the television show, Shark Tank, this activity moves your group towards answers to those questions!
Request A Quote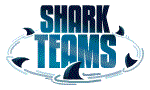 Event Overview
Laugh, Learn & Lift Your Team
Based on the hit TV show Shark Tank, now everyone in your group can try their hands at product development, process improvement or marketing. The focus of our Shark Tank-style team building program may be on fun, but the lessons in life, teamwork, and business are quite real. What's next? Bigger? Better? And, like the television show, Shark Tank, this team building activity moves your group towards answers to those questions! Teams must put as much thought into their presentation as their invention, to wow the judges. As with all TeamBonding programs, the competition is spirited but friendly.
Following a lighthearted icebreaker, teams put their heads together to create either a new product or feature your company might actually sell, a new process to help boost your bottom line or a new marketing strategy/ad campaign. After developing their big concept, each of the Shark Teams pitches it to a board of Sharks. These can be company execs, local charity representatives or your TeamBonding facilitators. The larger group also weighs in via a cool electronic voting system. Lively and engaging, and you just might end up with an idea worth pursuing.
Event Details
Space Requirement
The Shark Teams program can be held in your office building, a ballroom or conference room. 20 sq. feet per participant is a good guideline.
Ideal For
Creative thinking
Time management
Presentation skills
Cooperation
Planning and delegation
Tailoring
Working with the client, TeamBonding will narrow the field in which these innovations will be based. There are three possible realms for the context of these innovations:
Company Specific
Teams will develop ideas for use in their own company.
Charity 
TeamBonding can work with the client to identify a charity before the program, which would be a good match for a partnership and a donation.
Unrestricted
In this model, teams will be unlimited in their ideas.
The team building went well. The Sharks all enjoyed the very creative pitches made by the various teams.
Loparex
Just wanted to let you know that activity was a huge hit! Deric and the team did an amazing job…Very well done.
Sodexo
Our client and the guests LOVED the activity. Paul did an amazing job keeping everyone engaged and entertained.
Corinthian Events
Our Charity Bike Build donation event was a huge success. Matt and his team handled everything beautifully, and our group had a ton of fun. I heard nothing but positive comments afterwards. We will definitely recommend you to our colleagues.
Genentech

Everything went very well with our Do Good Bus. Michael was great, very friendly and really fun to have around.
Founders Brewing Co.
"It was an amazing day… and the team really enjoyed Tools for Schools. It meant a lot to them to help children in the community. There were many teary eyes, including mine!"
IBM
Other activities you may like.
Contact us to tailor this event to your unique needs.
Even with all of the packaged event options we offer, you may need something different. Maybe a special conference theme, favorite management book, ideal training model or a unique set of learning outcomes… We can help.