Why this event?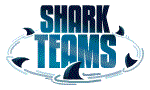 The focus of our Shark Tank-style team building program may be on fun, but the important lessons for business, teamwork and life in general and are seriously powerful. And as with many pursuits, an effective presentation can be every bit as important as the idea itself. 
Following a lighthearted intro icebreaker, teams put their heads together to create either a new product or feature. The goal might be to come up with something your company could actually sell, a new process to help boost your bottom line, or even a marketing strategy/ad campaign. After developing their big concepts, each of the Shark Teams then pitches it to a board of Sharks. These judges can be company leadership, local charity representatives or our own engaging facilitators. A cool electronic voting system allows your entire group to voice their opinions as well. 
We designed this experience to be a lively and engaging morale booster. And who knows? You just might come up with a concept worth pursuing.
Choose from three overall approaches: 
Company Specific
Teams develop ideas for use within your own company.
Unrestricted
In this version, there are no limits to the ideas teams can pitch. 
Charity 
We can help you partner with a charity, who receives a donation.