Toys for Tykes 'Arts & Music'
Toys for Tykes is a wonderful charitable team activity especially heartwarming during the holiday season.  The gifts made will be delivered to children who may not be getting any presents while boosting employee morale through the building and donation of memorable items for children in need.
Request A Quote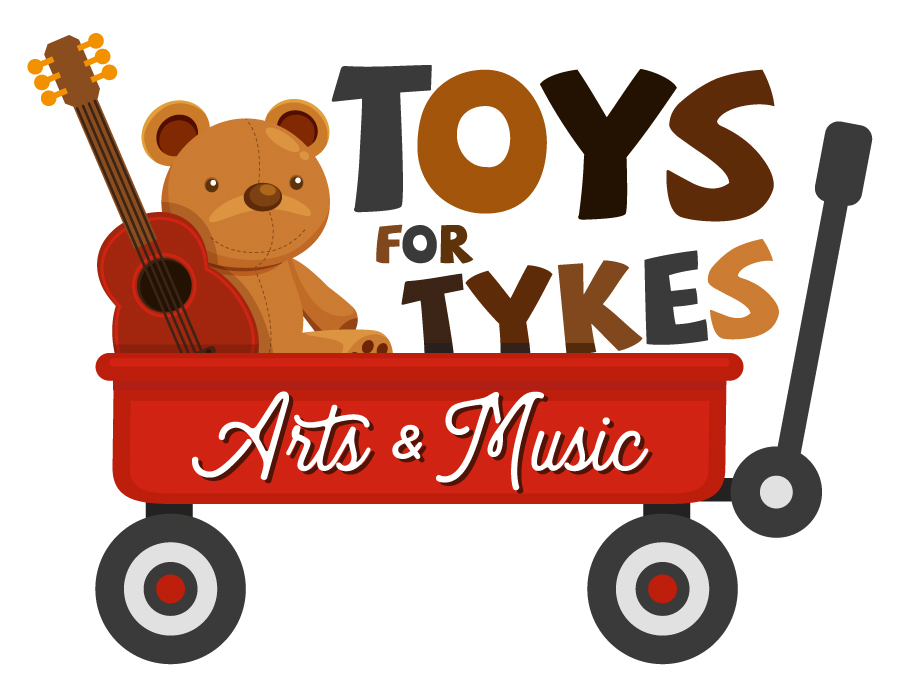 Event Overview
Make a Difference in the Life of a Child
Out here on the leading edge of corporate team building, we're delighted to see the snowballing popularity of our company charity events. Toys for Tykes – Arts & Music is the updated proven winner of a company charity event and dresses it up warmly for the holiday season. There's no better time to demonstrate healthy corporate citizenship and give something meaningful back to your community.
Your group works together in small teams assembling and/or decorating quality toys to be given to children in real need.
What will your team build?  Your group will start off building a tabletop Radio Flyer wagon and a teddy bear that your team stuffs, and dresses in an artist or musician-themed outfit.  Your team will package up the wagon complete with instruments like maracas, a Ukulele, and an art project.
Who receives your team's handiwork? Toys are donated to charities like the Boys and Girls Clubs, patients at a local children's hospital, an orphanage… trust us, there's no shortage of kids who will treasure a gift from you and your associates. For an even greater positive impact, you might choose to present your gifts in person. It all creates a uniquely moving experience that boosts morale while imparting a greater sense of purpose within your ranks.
Event Details
Space Requirement
Large indoor space with a table and chairs for each team plus some banquet tables for supplies. 20 sq ft per participant is a good guide.
Ideal For
Holiday Party with a #CSR twist
Collaboration & Accomplishing Common Goal
Communication
Fun & Engaging Interaction
Relationship Building & Networking
Tailoring
The possibilities are endless but the outcome is always the same – a group of happy children and a proud team of employees.
It was absolutely wonderful! What a great facilitator we had. He was so outgoing and made us have so much fun. Our sales reps said it was the best thing we ever did at a sales meeting.
Nourison Co
I wanted to take a moment to thank you and also Michael & his team. Michael & his team were very energetic and their positive mood and energy definitely energized the whole company! I've been getting numerous comments from all levels of staff and management saying that it was the best company event they've attended.
Woodmont Real Estate Services
Thank you- the event on the 4th was fabulous. Everyone had an amazing time and Deric was fabulous! It hit all of the right notes and our team was honored to be able to do something both fun and charitable.
Staples
My company had a wonderful event by Teambonding. From the planning of the event to the actual day everything was seamless. The event coordinator, Stephanie was such a pleasure to work with from her attention to detail, to modifying the Teambuilding to meet our needs, her communication skills and efficiency were superb! Our event facilitator, Kevin was top notch, truly gifted in his field! He took a department that tends to be very reserved and quiet and had EVERYONE fully engaged, interacting, laughing and genuinely enjoying themselves, it was awesome!!! I highly recommend Teambonding and we will be using them again.
Sanofi
"I just wanted to say thank you again for a great event last night. The group had so much fun and there were lots of laughs and smiles. I also wanted to say that Eric was a wonderful facilitator. He was so personable and made the time a lot of fun for all. He was great to work with and we hope to work with him again for future events! Thank you all!"
Insulet Corporation
"Always a great, fun experience!"
pwc
"The training was awesome and we really enjoyed it! The instructors enthusiasm was definitely noticed and appreciated. Thank you so very much! I am positive we'll be working with your group in the future!"
Insulet
Other activities you may like.
Contact us to tailor this event to your unique needs.
Even with all of the packaged event options we offer, you may need something different. Maybe a special conference theme, favorite management book, ideal training model or a unique set of learning outcomes… We can help.