Charitable team building activities for any size group.
Let us help plan your perfect CSR team building event.
Chosen By:










Charitable events you can feel good about.
The Charity Bike Build
Hundreds of companies have used our Charity Bike Build to donate nearly 20,000 bikes to grateful children around the world. Of all the team building programs we offer, the Charity Bike Build is truly our #1 favorite.
Do Good Bus
Giving back to your community always feels good. Getting out into that community while you're giving back is even better. And when your team travels together by bus to reach their destination? We call that next-level good.
Clean Water Connection
The Clean Water Connection filter build offers a meaningful, hands-on experience that will impact communities around the world with clean water. Build relationships, purpose, and passion as you connect and give back.
Wheels Around the World
In this philanthropic Wheels Around the World event, each team will sponsor a wheelchair, complete a set of activities, decorate and personalize a wheel safety cover, and discover more about their recipients. Participants will make a direct impact on a person's life while at the same time raising awareness of what it is like to live with a disability.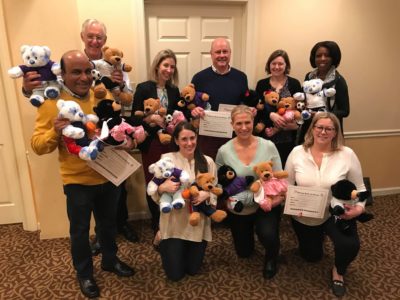 Team Teddy Rescue Bear
Welcome to the original Teddy Bear team building event. In this heartwarming charitable activity, your entire group pitches in to spread warmth and kindness to children in need. A little kindness really does go a long way.
Build-A-Birthday
Bring joy. Make a difference. Your team can do just that by providing homeless children with the gift of a magical birthday party!
Little Team Library
Give the gift of literacy in this hands-on charitable program that combines the building of Little Free Library kits with the intimacy of storytelling. Teams will work together to assemble and decorate their mini kits with mounting posts. In this unforgettable event, you'll create a permanent neighborhood book exchange in the community while having fun and connecting with your team.
The Big Give
A combination of several popular charity programs morphed into one mega giving extravaganza, The Big Give is ideal for a company seeking an opportunity to build not only relationships but also boost Corporate Social Responsibility (CSR) as well.
Healthcare Heroes Scavenger Hunt
Our hi-tech scavenger hunts are always popular choices. This inspiring version offers a unique blend of sightseeing, adventure and team building. It's also a meaningful way of giving back to local heroes in your community.
Easy. Transparent. Trustworthy.
Explore
Browse our catalog or give us a call.
Select
We can custom tailor to suit your needs.
Organize
Choose times that work best for your team.
Enjoy
It's your event too. Leave everything to us.
Plan Your Event Now
Better Teamwork.
Activities and events designed to foster collaboration and cooperation.
Happier Teams.
We offer powerful ways to boost morale, engagement and productivity.
Fun & Engaging.
Corporate social responsibility activities to have fun while giving back.